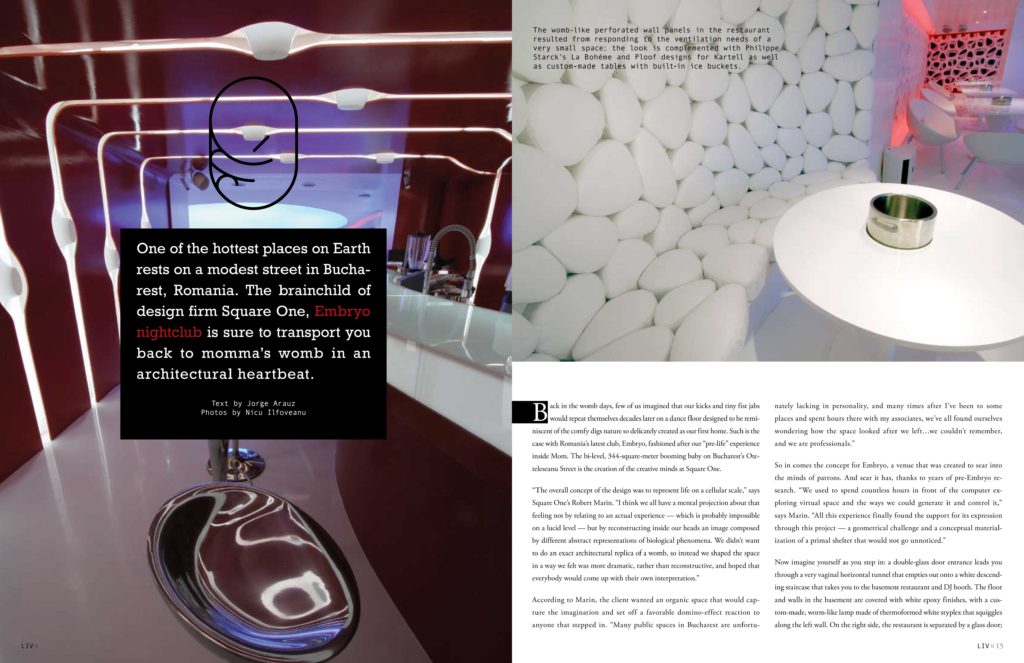 Text by Jorge Arauz | Photos by Nicu Ilfoveanu
One of the hottest places on Earth rests on a modest street in Bucha- rest, Romania. The brainchild of design firm Square One, Embryo nightclub is sure to transport you back to momma's womb in an architectural heartbeat.
Back in the womb days, few of us imagined that our kicks and tiny fist jabs would repeat themselves decades later on a dance floor designed to be remi- niscent of the comfy digs nature so delicately created as our first home. Such is the case with Romania's latest club, Embryo, fashioned after our "pre-life" experience inside Mom. The bi-level, 344-square-meter booming baby on Bucharest's Ote- teleseanu Street is the creation of the creative minds at Square One.
"The overall concept of the design was to represent life on a cellular scale," says Square One's Robert Marin. "I think we all have a mental projection about that feeling not by relating to an actual experience — which is probably impossible on a lucid level — but by reconstructing inside our heads an image composed by different abstract representations of biological phenomena. We didn't want to do an exact architectural replica of a womb, so instead we shaped the space in a way we felt was more dramatic, rather than reconstructive, and hoped that everybody would come up with their own interpretation."
According to Marin, the client wanted an organic space that would cap- ture the imagination and set off a favorable domino-effect reaction to anyone that stepped in. "Many public spaces in Bucharest are unfortunately lacking in personality, and many times after I've been to some places and spent hours there with my associates, we've all found ourselves wondering how the space looked after we left…we couldn't remember, and we are professionals."
So in comes the concept for Embryo, a venue that was created to sear into the minds of patrons. And sear it has, thanks to years of pre-Embryo re- search. "We used to spend countless hours in front of the computer ex- ploring virtual space and the ways we could generate it and control it," says Marin. "All this experience finally found the support for its expression through this project — a geometrical challenge and a conceptual material- ization of a primal shelter that would not go unnoticed."
Now imagine yourself as you step in: a double-glass door entrance leads you through a very vaginal horizontal tunnel that empties out onto a white descend- ing staircase that takes you to the basement restaurant and DJ booth. The floor and walls in the basement are covered with white epoxy finishes, with a cus- tom-made, worm-like lamp made of thermoformed white styplex that squiggles along the left wall. On the right side, the restaurant is separated by a glass door; the adjacent red epoxy-finished wardrobe features a transparent styplex with circular holes through which patrons pass their coats. The table area is divided into three zones with an elliptical opening in the ceiling of the first zone that communicates with the level above. "We had to cover that wall in the most 'ventilation friendly' way, so using thermoformated Comadur panels with a geometry that allows the air to flow freely through was a natural option."
From the basement, a white, glowing ascending staircase with an embryonic railing leads you to a bar area that's emphasized with a double-layered crim- son wall veined with white light and circular light fixtures. The whole thing is very spermatic. A wriggling, glowing white bar doubles as a light source and borders the elliptical opening with an inclined parapet that's used as a video-projection surface visible from the lower level.
Although most of the elements are carved in hard plastic, Square One tried to soften the space by distorting all the elements that would give people a sense of orientation regarding scale and object shape. Philippe Starck's La Bohéme and Ploof designs for Kartell were used in the basement and Al Bombo from Magis by Stefano Giovannoni was used at the bar level, both complemented with custom-made tables with built-in ice buckets. The big sofa in the second zone is made up of randomly placed removable pillows and round tables. The restrooms flaunt Trend mosaic-covered walls, sanitary objects from Simas, Gate washbasins, You & Me toilets from Hatria and tabs from Gessi.
Looking up, the ceiling's complicated geometry resulted from responding to the needs of the ventilation system in a very small space, as were the perforat- ed wall panels in the restaurant and double-layered ceilings and walls in the bar area, which house pre-existing air ducts. "In many cases, we had to com- bine the decorative nature of the elements with the function," says Marin.
The light zone is covered with a Barisol membrane and most of the light is produced by a synthesis system that was created in collaboration with Roma- nian light manufacturer Caralux. It's a system of three types of spectral gas- light sources in red, green and blue that are controlled through an electronic dimming system, allowing for color variety from one zone to the other. "I think the most spectacular materials put to work are those in the thermo- formed styplex and comadur elements," says Marin. "What makes them spe- cial is the way they interact with the changing light. We tried to establish a soft feeling by distorting the shape and size of the objects and the light color, all of which directly affect the perception of the patrons."
Marin says the hardest part of the project was trying to find out how to actu- ally build all the things that were running through their heads. "All the wall finishes were custom-made and we even ended up in an egg-carton factory trying to make some of the elements," he says. "But in looking back, I have to say that the hardest thing was also the best thing, and that's the fact that the client agreed with everything we had to throw at him and imposed no boundaries on us. Doing something of this caliber without having anybody but yourself to blame is any architect's or designer's dream — but the pres- sure…man…it was tough, but I'd do it again."
Officially opening its doors October of last year, Romania hasn't been the same since Embryo's arrival, as Marin so humbly puts it. "I'd say the city reacted well — I'd like to think that it was one of the first times when people really reacted to the design of a place," he says. "Embryo started out as a bar/club/restaurant and it turned slowly into just a club. But not any kind of club — it's a culturally effervescent platform in terms of not only design, but music, art and style."
According to Marin, the owners of the space originally put a lot of effort into the Embryo cuisine, importing fresh products directly from France and Eng- land and having personnel trained at the highest standards. All the formalitydidn't last very long. "Soon the consumer type shifted from Prada-wearing gourmands and French wine connoisseurs to young professionals that live for music and mental interaction," says Marin. "Embryo was destined for the first category as an extravagant after-hours continuity to the already estab- lished restaurants and was invaded and conquered by the second."
Marin says that everyone he and his associates have met since the Embryo project — from doctors to designers to journalists and hardcore clubbers — has uncovered their own visions of the womb. And although they were each very different from one another, they all made perfect sense in the end. "If I had to choose the one thing about this design that makes me happy, it would be the fact that this space exists more in the mind than in reality."