LiV Miami Magazine loves a celebration and Bentley Motors sure knows how to pick a date in which we should all celebrate… Sewing Machine Day.
By shining a light on the people and technology behind its world-class, industry leading stitching and embroidery, Bentley Motors is celebrating Sewing Machine Day as only Bentley knows how.
The 120-strong dedicated sewing team in Crewe, England, are highly experienced artisans – some having as much as 40 years' experience to their credit. As is Bentley tradition, the longer-serving members of the team are charged with passing on their knowledge and experience to the apprentices.
For Bentley, the humble sewing machine has always played an integral part in the brand's near-100-year story. The hand-crafted interiors synonymous with the luxury British marque have – since 1919 – been created thanks in part to these machines and, of course, the craftspeople who operate them.
Bringing the story of the sewing machine right up to date is the new British-designed Bentley Continental GT. The Grand Tourer's striking 'Diamond-in-Diamond' interior pattern features both stitching and embroidery, and is a highly intricate, modern take on a classic style.
The inner diamonds are embroidered using specially-designed, state-of-the-art machines that balance high speed with faultless quality. Eighteen months were spent developing the embroidery, individually optimising and programming the exact alignment of the 712 stitches that make up each diamond shape – an unrivalled attention to detail. It takes more than seven hours to produce a complete Diamond-in-Diamond-stitched interior for the New Continental GT  interior and nearly 300,000 individual stitches.
The embroidery process always begins at the bottom of each diamond, for the best finished appearance. During the stitching process the embroidery actually causes the leather panel to shrink by 12 per cent – which has to be accounted for when each panel is cut.
Each interior is crafted from nine Northern European bull hides, stitched together with 2.8 km of thread. Every leather panel is initialled on the reverse by the Bentley colleague who made it – a personal hallmark of quality.
Artisanal Skills Passed Between Generations
Thirty-seven years of experience separate Liz Neyland and Zoe Nevitt in Bentley's sewing team, but they are united in their passion and determination to deliver the finest results every time.
Liz Neyland, who first joined the team in Crewe in 1979, has seen huge changes over the years especially in terms of the technological advancements she now enjoys in her day-to-day role.
"When I first started in the sewing team each person would be responsible for producing a full set of panels for a car. Nowadays we each focus on smaller sections so that it is easier to maintain the highest quality and precision. Being a trainer is a very important part of my role, it enables me to share expertise with the new apprentices." Liz commented.
Zoe Nevitt works closely with Liz, learning from her colleague while also bringing a fresh perspective to the classical skill. "Before working at Bentley I had no sewing skills – nearly three years later and I can say that I am an experienced machinist. Having the support of the team has been extremely valuable; they have taught me not only the technical skills but also the importance of knowledge sharing to improve our processes." said Zoe.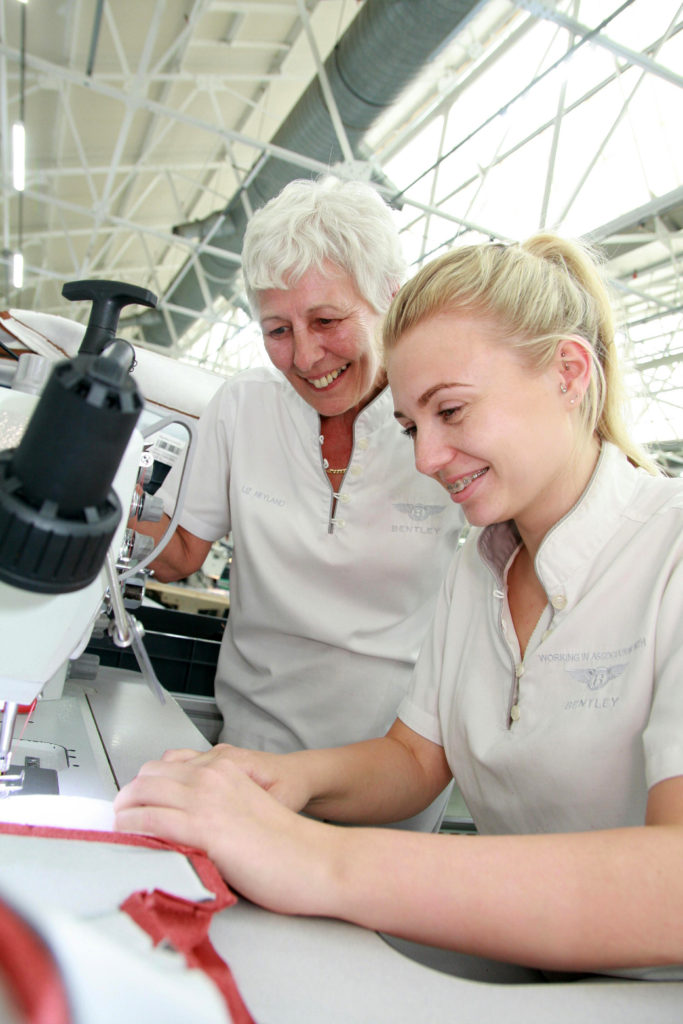 Bespoke Embroidery Bringing Visions to Life
In a specialist area of the sewing department, Bentley produces bespoke embroidered designs for customers with a unique vision, or to make limited edition models even more special.
These intricate and exquisite designs can feature up to 500,000 individual stitches and are requested through Mulliner – Bentley's personal commissioning division.
The specialist team take several days to create these unique embroidered patterns  on a purpose-built, dedicated machine.
Sewing Machine Day 
Observed annually on June 13, Sewing Machine Day honours the invention of the sewing machine. Skilled cabinet-maker and English inventor, Thomas Saint, received the first patent for the design of a sewing machine –  intended for use with leather and canvas – in 1790.
Later, in 1874, William Newton Wilson found Saint's drawings in the London Patent Office, made some adjustments and built the first working model. The London Science Museum currently owns Wilson's original machine.